Portmagee.
In Ireland's southwest corner, at the tip of the magnificent Iveragh peninsula, is the Skellig Coast. At its heart is Portmagee.
On the face of it, this tiny village – right off-the-beaten-track on the Wild Atlantic Way – is hardly more than a row of colourful houses along a quayside.
Yet there's a strong sense of purpose here that gives Portmagee an energy all of its own.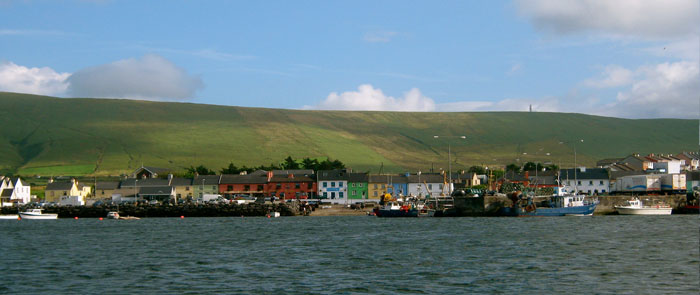 Most mornings, adventurous souls wait at the harbour, hoping to visit one of the wonders of the world.
The early-Christian hermitage of Skellig Michael– described by George Bernard Shaw as "part of our dream world" and now a UNESCO World Heritage Site .
Skellig Michael is 8 miles out to sea. Clearly visible on a fine day, it can only be reached when the weather allows.
But no matter. Portmagee – now named Ireland's first-ever 'Tourist Town ( the highest accolade, for the exceptional; way the whole place welcomes visitors).
Portmagee  is " perfect for hanging around waiting for the weather to clear for the Skelligs", says Lonely Planet.
And whether en route to the Skelligs or not, you'll want to slow down and stay a while… watching cloud shadows on the mountains, walking along the strand or along the cliffs, counting stars in the darkest night skies, and rainbows as the Atlantic fronts blow through.
There are waves of busy-ness: gulls circle as trawlers return, catches are landed, fish sold, nets mended.
There's banter from the boatmen. Stories are shared of Portmagee's seafaring and smuggling past.
Colourful RIBs and dinghies take folk offshore to dive, sail and see the wildlife. People come from across Ireland to take part in Portmagee's annual festivals – Set Dancing, Sea Shanties and the traditional Old Year festivities.
Come the evening, there are friendly locals and turf fires in the pubs, the freshest seafood to eat, traditional music and set dancing, year round …in this warm-hearted place at the far western edge of Europe.