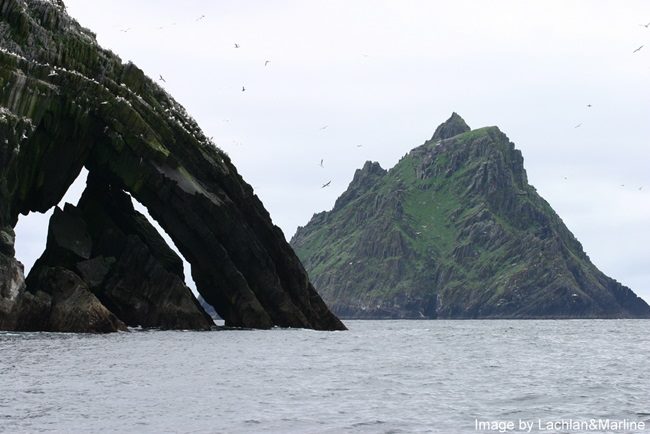 Top attractions in Ireland
Today I am going to speak about one of the top attractions in Ireland which is Skellig Michael. There is no denying that  Skellig Michael is the main attraction on the Ring of Kerry and now the newly developed  Wild Atlantic Way. Skellig Michael has been attracting visitors for years and leaving them inspired in awe and spellbound this of course are just some of the reasons that Skellig Michael is one of the Top Places of Interest & attractions in Ireland.
Skellig Michael, the rock.
Skellig Michael is a UNESCO  world heritage site one of only three in Ireland. Skellig Michael won this accolade in 1996. This what UNESCO had to say about the Skelligs "The Committee decided to inscribe the nominated property on the basis of cultural criteria (iii) and (iv) considering that the site is of outstanding universal value being an exceptional, and in many respects unique example of an early religious settlement deliberately sited on a pyramidal rock in the ocean, preserved because of a remarkable environment. It illustrates, as no other site can, the extremes of a Christian monasticism characterizing much of North Africa, the Near East and Europe."
Attractions in Ireland on the verge of Europe
The rock is situated about 12 kilometers of the Kerry Coast and from April to September we run cruise to the rock and around and it never fails to impress. Skellig Michael stands reaching heights of more than 200 meters out of the wild Atlantic and there at its shoulder is the little brother called small skelligs. Skellig Michael of course is one of the most mystical places on this earth and the home to  an monastic settlement which is the source of the rocks mystic. The Monastic Settlement dates back to the 6th century; however, one can find legendary accounts of Skellig Michael which date to pagan times, back in 1400 BC. "Skellig Michael was the home to the monks of St Fionan. These monks led very simple lives out here in the wild Atlantic, living in stone beehive shaped huts. Although the huts were round-shaped on the outside, they were rectangular on the inside. They were carefully built to prevent a single drop of rain from penetrating their interior" more history here on Top attractions in Ireland.
Allied to this of course the small Skelligs is no less impressive and is the home to the second largest Gannet Colony in the world with over 27000 pairs on the rock.
Our boat cruise to one of Ireland's Top attractions
We offer a boat cruise around the rocks which takes approximately 2.5 hours to these wonderful rocks standing proud in the Atlantic. We leave 3 times daily from the marina in Portmagee 10.30 am 1.30pm  4.30 pm  you can book your cruise here on Skellig Michael tours.
Skellig Michael Cruises
Please feel free to browse around our site as we have loads of posts and videos on on of the " Top attractions in Ireland". Of guys with the last two years the Island s have been closed during the season to accommodate shooting for the Star Wars movies "Return of the Jedi: Star Wars Episode VIII" This has further the intrigue and curiosity of the Skelligs which all bodes well for the future of Skellig Michael as one of the Top Attractions in Ireland
http://www.skelligmichaelcruises.com/wp-content/uploads/2017/01/logo6a.png
0
0
Paul Devane
http://www.skelligmichaelcruises.com/wp-content/uploads/2017/01/logo6a.png
Paul Devane
2015-10-30 10:50:05
2015-10-30 13:19:15
Top attractions in Ireland