Skellig Michael Cruises depart from the beautiful fishing village of Portmagee.
We offer two types of boat tour to Skellig Michael.
An Eco Tour which goes around both islands and a Landing Tour where you get off the boat and climb to the top.
Our Eco Tour departs daily from Portmagee marina at 9:30am,10am, 1pm, 1:30pm, 2:30pm, 3:30pm 4pm and 6:30pm. This boat trip circles both skellig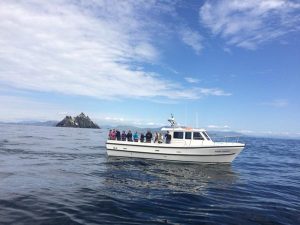 islands. You get up close to see the birds, the beehive huts, the monastery, the light house at the back and the old steps the monks carved into the rock. You might even see some dolphins and whales on your journey. This trip is 2.5 hours in duration and is suitable for all ages and abilities.
The Eco tour season runs from March 15th to November 10th and all trips are weather permitting..
The Landing Tour departs daily from Portmagee marina at 9:15am. It takes approximately 1 hour to reach Skellig Michael. You are allowed 2.5 hours on the island to climb the 600 steps to the top and explore the island. On the island there is a tour guide to tell you all there is to know about the island, especially the history of Skellig Michael and lots of information on the birds that live there. They will be happy to answer any questions you might have.. You will arrive back in Portmagee at approximately 2pm.
Landing Tours run from the 15th of May to October 2nd.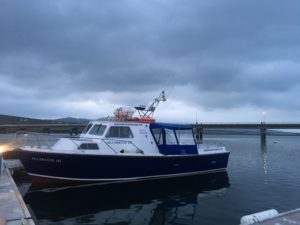 Travel in style on board the newest and biggest boats of the fleet. We have 3 boats in operation taking passengers on an eco tour daily to Skellig Michael.
As you can see from the picture our boat has an outside canopy for shelter from wind,rain etc… and provides extra comfort for passengers. This canopy can be rolled up for a very fine summers day.
Our boats have a door at the back which allows easy access for passengers to walk on-board. They are spacious with plenty of room to walk around, take photos and view the wildlife and historical sites of Skellig Michael and the small skelligs.
All our boats are wheelchair accessible, have life jackets on board, a toilet, seating and shelter for all passengers on their journey to Skellig Michael.
If you have any questions during your trip please feel free to ask one of our crew members.