Skellig Michael Tours and Cruises depart from the beautiful fishing village of Portmagee.
Skellig Michael Cruises offer Skellig Michael tours and the Skellig Islands eco cruises.

Skellig Michael tours are where you land at Skellig Michael, get off the boat and climb to the top, the Skellig Islands Eco Tours  go around both islands.
Trips to the Skellig Islands can be called many things ie. ferry to Skellig Michael, skellig Michael tours, Skellig Michael trips, boat to Skellig Michael, Skellig Island tours, Skellig Michael landing tours, Landing tours etc etc.
The list is endless and not that important, but getting out to the Skelligs / Skellig Michael, and must be on the bucket list of many people.
People choose to visit the Skelligs for many different reasons – Star Wars fans, religeous reasons, the birdlife.
So if it is your intention to take a Skellig Michael tour or take in a Skellig Islands eco cruise, then plan ahead, book early which is especially reccomended for landing on Skellig Michael, and look forward to an experience that is out of this world.
Skellig Michael cruises offer two different options to see these awe inspiring and magnificent islands, details are listed below.
Booking for Skellig Michael tours (landing) is limited and in high demand so booking well in advance of your visit is well advised – although you may get lucky with an on the day cancellation.
Booking for the Skellig Islands Eco tours is simpler as we have more boats available and every departure time.
with our Skellig boats fleet we  have 48 seats available (x 4 departure times), although you dont get up close and personal with the Beehive huts and the Monastery, you will still see them and many more things than you will see from a Skellig Michael tour.
This makes the Skellig Islands Eco tour a worthwhile alternative to the Skellig Michael tours, especially for the infirm, people who dont like heights etc.
Skellig Islands Eco Tours
Our Skellig Islands Eco Tours depart daily from Portmagee marina .
Departure times are 9:30am,10am, 1pm, 1:30pm, 2:30pm, 3:30pm 4pm and 6:30pm.
This boat trip circles both skellig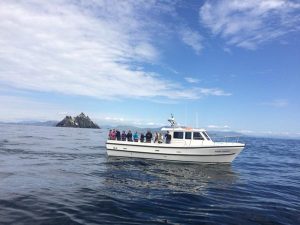 islands.
You get up close to see the birds, the beehive huts, the monastery, the light house at the back and the old steps the monks carved into the rock.
You might even see some dolphins and whales on your journey.
This trip is 2.5 hours in duration and is suitable for all ages and abilities.
The Skellig Islands Eco tour season runs from March 15th to November 10th .
All trips are weather permitting..
Skellig Michael  Tours
Skellig Michael  Tours depart daily from Portmagee marina at 9:15 – 9:30am.
It takes approximately 1 hour to reach Skellig Michael.
You are allowed 2.5 hours on the island to climb the 600 steps to the top and explore the island.
On the island there is a tour guide to tell you all there is to know about the island, especially the history of Skellig Michael .
The tour guides also provide lots of information on the birds  and wildlife that lives / visits there.
They will be happy to answer any questions you might have..
You will arrive back in Portmagee at approximately 2pm.
Skellig Michael  Tours run from the 15th of May to October 2nd.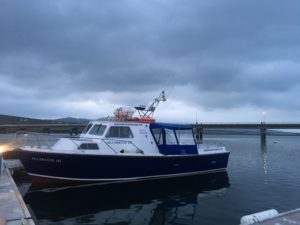 Travel in style on board the newest and biggest boats of the fleet.
We have 3 boats in operation taking passengers on an eco tour daily to Skellig Michael.
As you can see from the picture our boat has an outside canopy for shelter from wind,rain etc… and provides extra comfort for passengers.
This canopy can be rolled up for a very fine summers day.
Our boats have a door at the back which allows easy access for passengers to walk on-board.
They are spacious with plenty of room to  take photos and view the wildlife and historical sites of Skellig Michael and the small skelligs.
All our boats are wheelchair accessible, have life jackets on board, a toilet, seating and shelter for all passengers on their journey to Skellig Michael and the Skellig Islands.
If you have any questions during your trip please feel free to ask one of our crew members.